HSBC in Japan
HSBC was one of the first foreign banks to operate in Japan, opening a branch in Yokohama in 1866.
Today, HSBC in Japan offers a range of financial products and services including asset management, commercial banking, trade services, project export finance, cash management and treasury, capital markets, securities and custody services.
It has branches in Tokyo and Osaka which provide services to corporate clients.
HSBC's companies in Japan

History
In the aftermath of the commercial treaties between Japan and the prominent trading nations of the West in the 1850s, there was a need for banking services to support the changing Japanese economy. HSBC established its presence in Yokohama in 1866. This was followed by branches in Kobe in 1869, Osaka in 1872, and Nagasaki in 1896.
The bank helped finance Japan's growing trade with the wider world. The value of foreign trade virtually doubled every decade from the 1860s until the early twentieth century.
HSBC also provided the Japanese government with assistance and advice on the introduction and adoption of the yen as the national currency. In 1879, the Japanese government deposited JPY300,000 on condition that HSBC's Yokohama branch would accept silver yen as currency.
In the early part of the 20th century, HSBC was involved in a number of large loans to Japan, with some GBP250 million lent to the government and Japanese cities. These loans were used to fund industrial and infrastructure projects, particularly railway, waterworks and harbour construction.
After the Great Kanto Earthquake in 1923 which destroyed the Yokohama office, HSBC opened its Tokyo office in 1924.
HSBC was one of the first banks to send a representative to Japan after the end of the Second World War and in 1947 the Tokyo and Kobe offices were reopened. The bank was instrumental in restarting trade between Japan and the sterling area by agreeing to extend a credit line of GBP20 million.
Contact us
The Hongkong and Shanghai Banking Corporation Limited
Tel: 03-5203-3000 (9:00 - 17:00 from Monday to Friday)
Tokyo branch
HSBC Building, 11-1, Nihonbashi 3-chome, Chuo-ku, Tokyo 103-0027
Access to Tokyo branch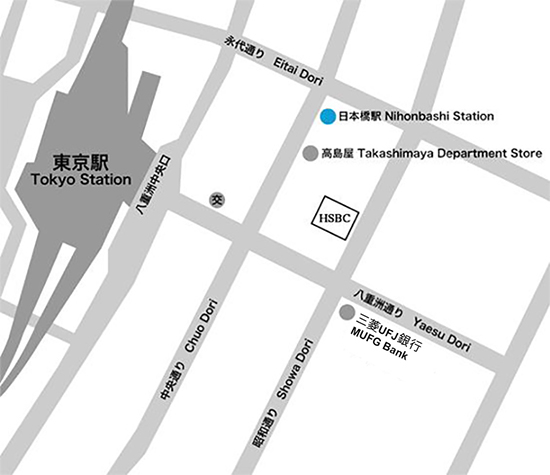 JR Tokyo Station: 8 minutes walk
Nihonbashi Station: 5 minutes walk
(Tozai / Ginza / Toei Asakusa Subway Line)
Osaka branch
Nakanoshima Mitsui Building 7F, 3-3-3, Nakanoshima, Kita-ku, Osaka 530-0005
HSBC Securities (Japan) Limited
Tel: 03-5203-3111 (9:00 - 17:00 from Monday to Friday)
HSBC Global Asset Management (Japan) K.K.
Tel: 03-3548-5690 (9:00 - 17:00 from Monday to Friday)
To overseas HSBC individual account holders: In February 2012, the HSBC Group announced its decision to discontinue HSBC Premier services in Japan. As a result of this, HSBC in Japan no longer provides any support services (including overseas account opening support services) for HSBC overseas individual account holders. If you have any questions or inquiries regarding overseas individual accounts, please contact the appropriate HSBC overseas branch directly.
Awards